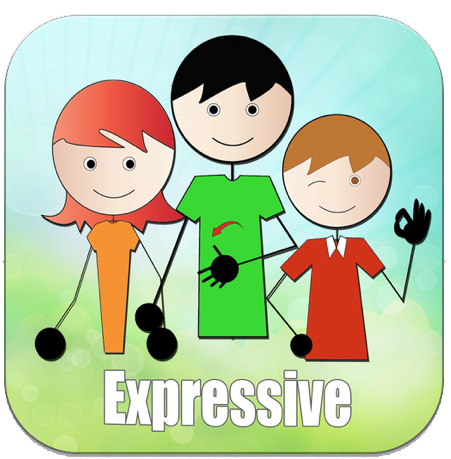 Expressive is an AAC app from
Smarty Ears
. It has recently been advanced to the version of 3.1.1. Expressive would be appropriate to use with children and adults who do not have the ability to communicate verbally, but who need and want to express their daily wants and needs to others. The individuals could be having difficulty communicating due to autism, apraxia, stroke or any other communication disorder. An AAC (Alternative Augmentative Communication) application such as Expressive will give the user the ability to communicate by pressing pictures and having the audio relay the words that they want to communicate. In the updated version, many new important features are present. It now has over 10,000 built-in images, it allows for customization from a selection of images with audio, and it also has the ability to make your own audio recordings. It is compatible with the iPhone, iPod touch, and the iPad. It also has built in text to speech with four different voices (two female and two male). It has the ability to change background colors for better visibility of desired folders. In addition, the app has the features of a lock feature, a search button to find images, the ability to use in landscape and portrait modes and the ability to change the font style.
Expressive helps to increase the ability to model communication. It is a device which can help a facilitator use it as an Aided Language Input (ALI) application. The teacher gives valuable lessons by modeling how to use the pictures to achieve verbal output which then increases the chances the learner can achieve expression. It allows for frequent active participation. The learner initiates communication over and over by needing to maneuver through the application features for their intended outcome. This makes the application enticing and motivating to use. Meaningful feedback is achieved by the learner being able to choose desirable pictures for their wanted objects. An example of this would be pressing 'I want" then pressing "apple". The immediate feedback of getting an apple from this communication exchange helps it to become very meaningful. Expressive not only helps a person express themselves, but also provides a tool to help them increase their receptive language as well. Overall, the application improves communication skills!
a) What we like about this application is that it uses a functional language approach.
b) It has large library of pictures.
c) It has a good capacity for pre-stored and generative requests of objects or actions.
d) It has a good capacity for core word messages such as; pronouns, helping verbs, descriptors and conjunctions.
e) It has some capacity for telling new stories and narratives.
f) It can be used with early sentence users (2-5 words using multiple cells) and it can also increase to complex sentences.
g) It allows for communication exchanges such as social situations, requesting and sharing of information.
h) It has good support provided from Smarty Ears (see link below).
i) It has many pre-programmed folders/words to use and the new upgrade gives you the ability to create your own folders as well. We especially think that the ability to color code each folder is a nice feature.
i) Lastly, the new lock feature helps when not wanting folders to be deleted accidentally.
One slight disappointment about this app is that although the app has four voices that can be used, the voices are synthesized (computer generated), and are not as pleasing to the ear as a digitized (recorded) voice would be.
Overall, we would highly recommend this app for it's use as an AAC device. The recent upgrades made to the application have made it more user friendly and a highly desirable choice in the AAC app pool.
If your are a visual learner, you can watch this video created by Smarty Ears which goes through the updated features of the application:
:
Expressive has a dedicated website with more information. Please visit
www.expressiveapp.com
. Click on image bellow to be redirected:
Expressive can be found
at Itunes
for the price of $25.99.
Give it a try!
Shanda and Manda, SLP's